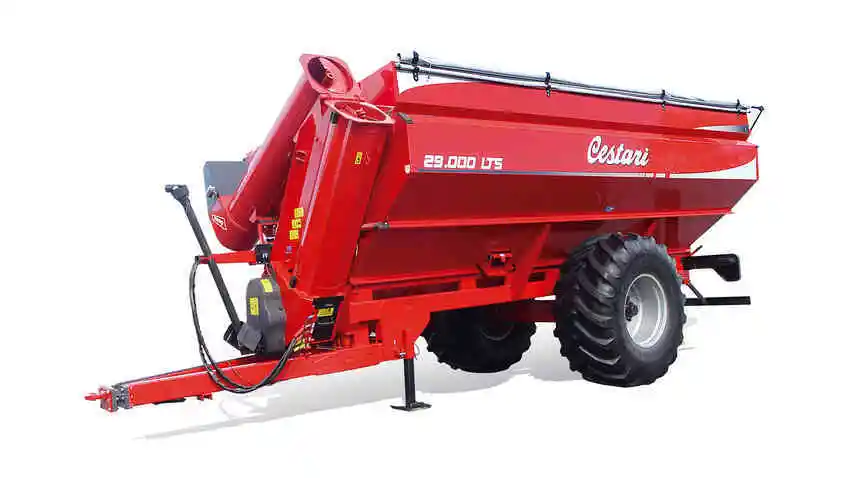 Tolva Autodescargable Cestari 23 Tn 1 eje Nueva
Conseguí el mejor precio
Detalles Técnicos
Sistema de Potencia Autónomo
Descripción
EQUIPAMIENTO ST / ST EQUIPMENT
Sistema de lona enrollable / Roll Top.
Tubo inferior desmontable / Removable lower tube.
Lubricación centralizada / Centralized Lubrication.
Visores de Cereal / Cereal Viewer
Indicador Compuertas Piso / Indicator hatches.
Boquilla de muestras / Sampling nozzle.
Limpieza con fondo deslizante /
Cleaning system and gravity download.
Portafaros rebatibles / Variable position lights.
Escaleras: trasera rebatible e interior / Leader: rear rebuttable e internal.
Enganche trasero / Removable rear hitch.
Sistema de piso con diferentes pasos / Floor system with different steps.
Organizador de manguera / Hose organizer.
Reflector de tubo de descarga / Reflector in discharge tray.
Cajón Herramientas / Tool box.
Enganche delantero con Rótula
Caja de mandos: Carcaza de fundición nodular y engranajes de acero forjado.
Sistema hidráulico triple: Elevación y plegado de tubo / Apertura y cierre de compuertas de piso y accionamiento fondo deslizante.
Barra de mando: Cardánica, telescópica tubo trilobular con cobertura de seguridad y fusible mecánico de protección.
Eje: Tubo de acero rectangular con puntas desmontables de Ac. SAE 1045 con tratamiento térmicos, mazas de Ac. Forjado SAE 1040 10 bulones M22 Ac. ISO 8.8.
Gearbox: Nodular cast structure and foged steel and oil bath. triple hydraulic system : Lifting and bending tube /Opening and closing gates and drive bottom floor slipper
Cardan Bar: Trilobular telescopic with protecting safety and mechanical safety .
Axle: Rectangular steel tube. Bolted points axle, SAE 4140 with thermal treatment. Bolted points axle, SAE 1040 with thermal treatment. Forged hubs SAE 1040, 8 bolts
metrics 20 Steel ISO 8.8. Forged hubs SAE 1040, 10 bolts metrics 22 Steel ISO 8.8.
ESPECIFICACIONES TECNICAS / TECHNICAL SPECIFICATIONS
Peso Tara / Weight Tare: (*1) 4.850 kg.
Capacidad / Capacity: (*2) 28.900 Lts.
Carga máxima / Maximum load: 25.000 Kg.
Ø tubo / Tube diameter: 480 mm.
Ø sinfín de piso / Floor auger diameter: 380 mm.
Ø sinfín de tubo / Tube auger diameter: 454 mm.
Tiempo de descarga / Unloading time: (*3) 3,3 min.
( *1 ): Con llantas sin neumáticos/ with rims, without tires.
( *2 ): Sin rebase superior/ Not exceed the upper edge.
( *3 ): Cereal seco a 540 r.p.m./ dry cereal at 540 rpm.
---